The best afternoon teas in London: Covent Garden
A selection of beautiful fashion-themed biscuits, sponges and sweets changes with the catwalk, but previous menus have included a Jimmy Choo-inspired shoe cake, made with praline cream and hazelnut croquant; and a neon yellow iced Manolo Blahnik gingersnap stiletto. Staff will guide you through its rich bounty of teas and infusions — and can recommend a brew to suit every palate. Our stand included little bagels topped with lashings of salt beef and smoked salmon, and fresh sandwiches filled with tomato and mozzarella, and coronation chicken. Pretty cakes and pastries adorned the top tier, including refreshing mint eclairs, blackberry macarons and crisp strawberry tarts.
Expect a glamorous selection of savoury and sweet comestibles ranging from buckwheat petit pain with rocket, Cheddar-style cheese, sun-blushed tomato and basil or a gluten-free mint loaf with pistachio pesto to a gorgeous avocado and Peruvian chocolate cup layered with raspberry compote or a vegan take on the classic Mont Blanc. Totally vegan and gluten-free. Gracious, discreet service is a bonus. All dietary requests can be accommodated.
Afternoon tea at The Dorchester is a dark horse. The Promenade looks every bit the foyer of a Park Lane hotel: sumptuous, with heavy drapes, plush carpets and marble columns. Scones are pedestrian but the unlimited finger sandwiches are terrific elevated by interesting breads, such as caraway seed or walnut , as are pitch-perfect pastries: the moist Battenberg, wrapped in homemade marzipan, is not one we will easily forget. Notice on booking is preferred. The Promenade: daily, sittings 1pm The Spatisserie: daily, sittings 1pm-2pm.
For a start, there are no dairy bits, refined sugars, additives or chemicals herein. It also includes cannabis choccies — albeit the non-psychoactive, apparently health-boosting CBD bit of the plant.
London's Best Budget Afternoon Tea Spots
Sorry, weed fiends. This is all washed down with hemp tea and a tea-infused cocktail. Great stuff, naturally. Fri-Sun, 3. Also available from Monday August 14, 3. Don't miss the scones on the savoury stand — goats cheese and salmon with dill butter, then a tangy spring-onion-and-chive type — or the smoked salmon eclair with its ever-so-soft choux pastry. The smooth chocolate mousse was the winner of the sweet stand, but the highlight of it all was the smoked salmon sandwich which comes with both teas. Tip: if you're going on a sunny day, ask to sit close to the windows, where there's more natural light.
Vegetarian afternoon tea is available to order on the day. The Glass Room, run by riverside specialists Bateaux London, has to be one of the more original afternoon tea settings in the capital. The clear-sided venue think smart floating greenhouse sets off from Embankment Pier for several laps of the Thames, offering views of attractions including the Houses of Parliament, Tower Bridge and the London Eye, all while nibbling on scones, sandwiches, pastries and cakes.
To drink, there are standard teas and infusions, or you could trade up to a glass of bubbly. Either way, the whole spread is accompanied by the dulcet tones of a solo pianist. A final note: unlike grander teas, 'refills' of sarnies and cakes aren't offered, but we still consider this one of the best-value afternoon teas in the capital. Wed-Sat, boarding 3. The sandwiches, in particular, are faultless: perfect little crustless soldiers made fresh to order. Scones plain or fruity come tucked up in a napkin nest to keep them toasty warm, and the clotted cream is in ideally-sized scoops.
The best bit? Vegetarian and pescatarian requests can be accommodated on the day, but notice on booking is preferred for gluten-free or dairy-free menus. A stylish boutique hotel amid the grand stucco avenues of SW7, The Kensington serves a London-themed afternoon tea in its all-day restaurant, Town House. Here, in a bay-windowed, multiple-roomed space with plush sofas and well-manicured staff, you can nibble on cute versions of The Shard, The Gherkin and Big Ben The Elizabeth Tower, for purists.
Start with a cup of floral earl grey before horsing into sweets and savouries: our favourites were the lightly curried coronation chicken sandwich and a white chocolate Gherkin filled with dark chocolate ganache. Book now. The jaw-dropping splendour of huge hand-crafted cobalt-blue chandeliers gives this former grammar school hall a real impact — nab a table in the wraparound gallery to truly appreciate it. Enthusiastic waiters are only too eager to top up your painted glass.
Tea at The Lanesborough ticks all the boxes. Happily, the food lives up to the setting. Soft, fluffy sandwiches are creative without being wacky: think smoked salmon spiked with yuzu, refreshing cucumber and lovage, or egg mimosa with the zing of tarragon and capers. Everything else is done with confidence, from the fresh warm scones to the carefully chosen — but not excessively long — tea list. The Palm Court at the Langham was in on the act from the very beginning, and you can still partake of its dainty wares against a palatial art-deco backdrop of plush fabrics, crystal lights and potted palms.
Notice on booking preferred. Venue says Palm Court is famed as the birthplace of afternoon tea providing a sense of occasion against a backdrop of daily live music. That, washed down with Moroccan mint tea, poured from a great height to allow oxygenation, makes for a modish and moreish twist to an old English tradition. The meal is halal, with vegetarian options available on the day. Venue says We're delighted to announce that we've reopened our doors after our massive relaunch!
We look forward to seeing you soon.
The Best Afternoon Tea In London
Despite being in the posher part of town, the atmosphere is fun and not stuffy — except for the odd piece of taxidermy on show. The three-tiered tea begins with a hearty selection of sarnies, including tandoori chicken in a soft and fluffy naan, and a doorstop-sized salted butter and cucumber bloomer sandwich. A level up, fresh cream slices cut through silky, oh-so-sweet homemade truffles, and warm fruity scones with blackcurrant jam and cream cheese perch on the top.
Best of all? As Harrods is to shopping, The Ritz is to hotels: a London icon. The high-ceilinged Palm Court, where one takes tea, frames feminine pastels with gilt edging and chandeliers, plus a pianist playing Elton John and Rod Stewart covers. Every Sunday the Barbican gives you the chance to sip prosecco and munch scones surrounded by over 2, species of tropical plants and trees. As if we need to say any more than that!
LONDON AFTERNOON TEA AT CAFE ROYAL - Everyday May - Beauty's Big Sister
The menu takes you on a journey through their tropical garden with coconut and kaffir lime chicken sandwiches, lemon thyme and date palm scones, orange and lavender cake, and pear and cardamom loaf. The tea costs. With biscuits, cakes and teas all dressed in Dior, this is surely one of the fanciest teas in town. Big Ben is a tasty lemon curd tart, while the iconic red telephone box is a tasty rhubarb mousse. Oh and, of course, there are scones with jam and clotted cream.
Best unusual afternoon teas in London;
Afternoon Tea for only £ at The Ritz | The Ritz London Hotel.
Not sure what to cook?.
Book via Telegraph Travel.
Here is our selection of the best afternoon tea in London:.
Their traditional Afternoon Tea Ceremony will take you on a journey from savoury to sweet Taiwanese dishes, each paired with the perfect tea. The Tea Ceremony is available Monday to Sunday, 12—5pm. Feast on finger sandwiches, scones, pastries and cakes, all inspired by an old fashioned sweetshop. Also published on Medium. Tell us a secret: hello secretldn.
Bottomless Prosecco Afternoon Tea at The Barbican Conservatory Every Sunday the Barbican gives you the chance to sip prosecco and munch scones surrounded by over 2, species of tropical plants and trees. Show Comments.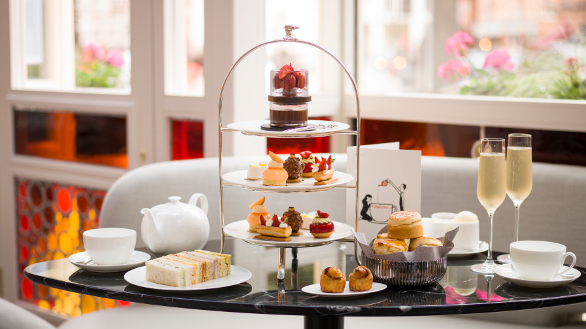 About us Contact Tell us a secret: hello secretldn.